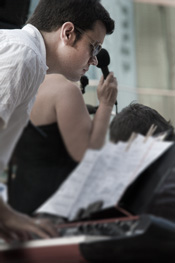 Bio
* Watch Kelly accompany vocalist Suzanne Nance on WCSH6 here! (two songs, one on each video) *
H ailing from Portland, Maine, pianist Kelly Muse is involved in a wide variety of musical projects and events throughout New England. From Big Band to Rock, weddings to musicals, to performing with the Portland Symphony Orchestra, Kelly has been involved with almost any music project conceivable. Currently he is music director at HopeGateWay church in Portland, bandleader of the popular wedding/function band Mixology, and has over 20 students during the week at 317 Main in Yarmouth.
With a degree in Jazz Performance and an MBA in Finance, Kelly appreciates both the art and business of music. Every performance is special and will always have an artistic component. At the same time, job number one is meeting clients' needs; from the perfect volume of background music the perfect song for a bride to walk down the aisle to, he works hard to make the best possible music for every occasion.
Versatility is first and foremost. As a pianist, bassist, guitarist, composer, arranger and teacher, Kelly is able to meet a wide variety of musical needs. No project is too quirky or specific! Over nearly two decades as a professional musician, he has done:
Arranging, from choral to chamber ensembles and big bands
Soundtracking
Teaching to all ages, ability levels, and in all styles of music
Band Leading as director of his own wedding band, jazz and rock groups; director of the Point Sebago house band; Assistant Music Director at Fryeburg Academy; Music Director at HopeGateWay
Musicals, Weddings, Parties, Functions and much more!
Please Contact Kelly with any questions about his services.